Inspired by Real Aircraft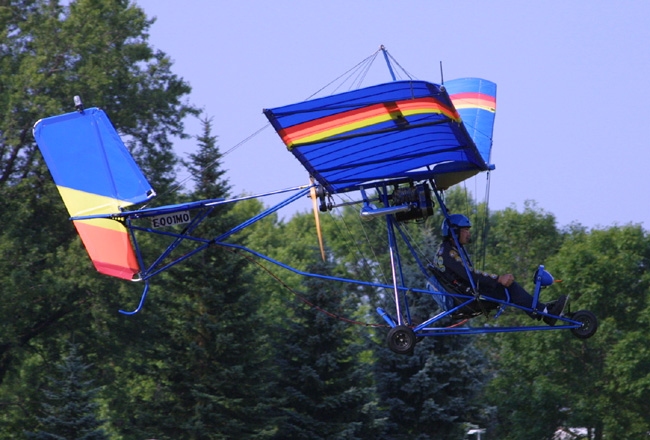 Re-Designed for Flying RC Model Entertainment Applications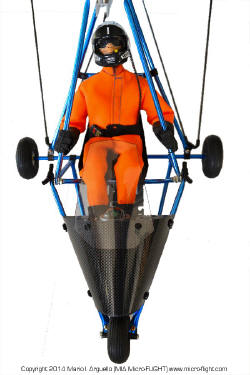 Superb! Platform for FVP Flying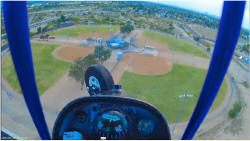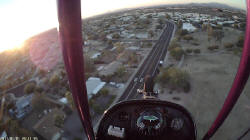 Several Options to fit your budget and skill level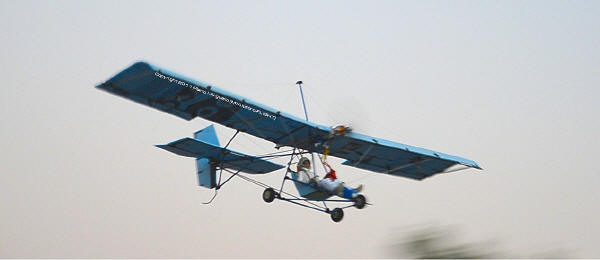 The MIA RC Ultralight Design Approach
Design incorporates MIA's own methods and parts engineered to keep things:
Logical, Simple, Easy, Flyable, Durable, Attractive, Realistic and Versatile.
A quick comparison of real ultralights and the MIA Design approach for RC model use.
Real ultralights use mostly aluminum tubing which is drilled and joined to other tubing via brackets and hardware. In addition wing LE and TE tubes are also drilled at equally spaced intervals for the ribs (wing shaping battens) and tension tubes. This approach in true scale renders a structure susceptible to easy break points anywhere where the tubing is drilled. MIA does not drill any of the tubes except at the ends where the tubes connect to other tubes, sections of the airframe, or strut connections.
The use of clamp type gripping clips at the ends of the tubes and along the tubes to attached to other tubes and parts, is a much better option as it maintains all tubes intact and makes for a much better (more robust) connection for model use. There is no risk of a break point "along the length of the tube" due to a perforation as they have none. This structural clamp design approach has been a MIA trademark on many of our products, including the MIA EZ™ Product Line. What this means for the user is also ease of assembly and basically a maintenance-free and attractive TUFF looking and lasting model.
Wing Installation Removal (Transport and Storage)
In addition and of importance for ease of wing installation and removal for transport and storage, MIA does not link the wing directly to the horizontal diagonal tail tubes, this way the tail section is left intact upon removal of wing. This MIA concept involves using a horizontal tube attached to the root tube and to which the diagonal tail tubes are connected, not directly to the TE of the wing. The end result is a complete intact fuselage that separates from the wings as independent assemblies. Connections from the wing to the horizontal tail bar are done via a nut and spacer (1/wing) which also set the proper dihedral from the root tube.
Weight Shift vs. Rudder and Elevator vs. Rudder and Elevator with Aileron or Flaperons
The real Quicksilvers started as simple single sling type seaters with weight shift control, providing s super simple control but limited. Later on moving to rigid single seats with rudder and elevator with high dihedral wings, the classic sport look. Some models were fitted with aileron, flatter wings and dual seats. For the sake of simplicity and to remain true to the classic look, ailerons are not part of the basic MIA UL kits, but as an add on optional accessory which will be offered in the near future.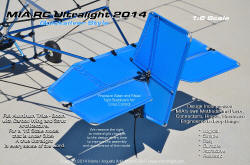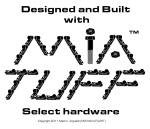 Full Aluminum-Carbon Frame with Strut Braced Wings
These QS Style MIA UL Kits come with full set of aluminum and carbon tubes/rods to build a complete trike with a triangular tail section, in true QS UL Style. In contrast to the MIA Conversion UL Kits for the GWS-HK Slow Sticks (SS) which use most of the stock SS airplane parts including the stock square boom and simply add on the MIA UL Trike and Wing Struts.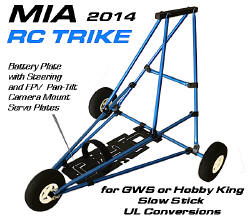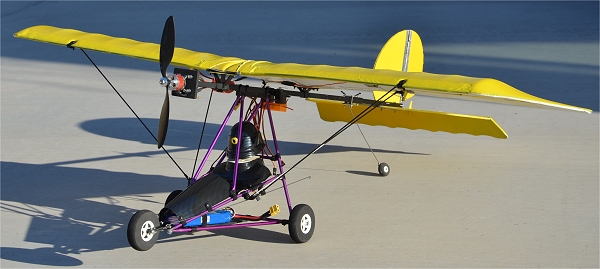 Please compare these options carefully and select the one that fits your requirements best.
Strut Braced Wings vs. Upper and Lower Flying Cables Braced Wings
Strut Braces wings are cleaner and have less drag, they required no cables, as the struts themselves support the wing both in positive and negative tension and therefore are not supplied with the kits. However, these can be added as a final visually enhancing touch by user, by purchasing the MIA QS UL King Post Tube and Cable Kit, which includes an Anofized aluminum tube King Post, Cable Distribution Hat, Cable Material and required hardware, to obtain a similar Cable Braced wing effect, as we did on the original 2011 MIA Bluecor UL model shows below.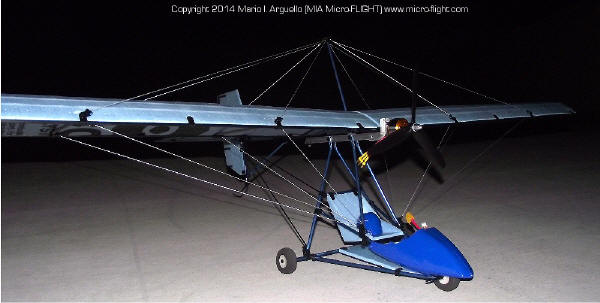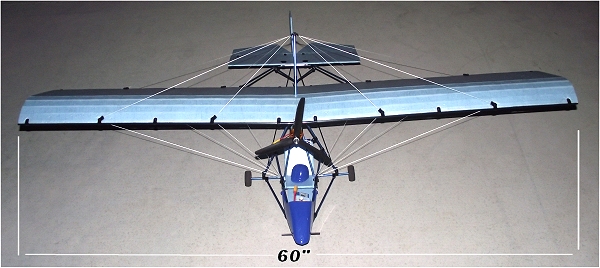 All MIA Full Aluminum-Carbon UL Kits come standard with a molded seat, root tube and parts designed for mounting various size BL motors and props at the back of the root tube or at the front of the root tube with propeller at the rear of the root tube via a motor shaft extender. This later design feature allows for a model that is lighter on the tail end, while maintaining a true pusher UL architecture, and a balanced CG location at typically 25-30% from the LE of the wing with the battery mounted forward on the supplied UL battery tray. Location of RC control servos is simple via the same battery tray which doubles up as servo trays under the trike to maintain high stability and ease of connecting to tail control surfaces. Spare servo plates are supplied as part of the Battery tray to be used for pan and tilt camera servo base, or separate steering servo mount, etc.
September 2014
New! Pusher Prop with Extender M3 Motor Shaft to Front Mounted Motor is now standard on all MIA Full Aluminum-Carbon UL Kits.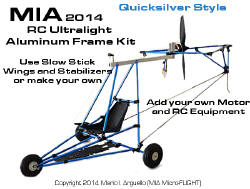 Add-On Optional Accessories such as our MIA Animatronic Pilot, are also available for higher builder fun, appeal and flying excitement

At 1:6 Scale, the MIA Optional Pilot is the ultimate Ultralight touch! and Re-Useable in other MIA 1:6 Scale models such as our MIA EZ™ Line of products (Autogyros, Microlights, Trikes, Helicopters and other Ultralights). It is also quite useable in a host of other commercial and DIY RC model aircraft.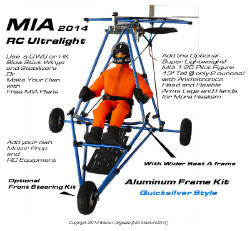 Power, RC and Electronic Equipment Required

Because of the dynamic nature of RC power and electronic equipment selection, available in the market, and the versatility of these MIA UL Kits, we can only make general suggestions on motor power and electronic equipment specifications.
There is a host of motor and prop combos to select from, which provide excellent power. Please be aware that the tail triangular section only allows up to 10" diameter pusher props. Although this is a bit beyond scale it is plenty when the prop is matched with a proper size motor.
We recommend 500 watts motor in the range of 1500KV which is plenty for a model that is under 4lbs. Motor shafts in this range are typically 3 to 4 mm in diameter.
Rules of Thumb
Motor and Prop selection, the larger the prop the lower the KV or vise versa.
Power to weight Ratio, consider about 100 watts per1.0 lb of model weight.
The MIA Full Aluminum-Carbon Frame Ultralights will carry easy a Go-Pro and spare FPV equipment.

We encourage you to shop around for RC equipment suitable for your specific application. For example, a basic flying model requires less power and equipment than one that has been fitted for FPV flying. Use common sense and the rules of thumb for your specific application and you will be fine. If in doubt, contact us direct, we'll be happy to assist.
KIT OPTIONS
If you're interested in using the GWS or HK Slow Stick Wings and Stabilizers
Ultralight Option 1:
MIA Quicksilver Style RC Ultralight Full Aluminum-Carbon Frame Kit $124.99
Comes with wing support carbon struts .To be used with GWS-HK SS stock Wings and Stabilizers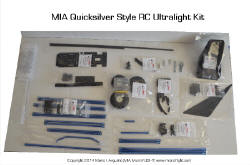 If you're interested in using DIY Foamy or Corflute Wings and Stabilizers
Ultralight Option 2:
MIA Quicksilver Style RC Ultralight Full Aluminum-Carbon Frame and Scale Drawing Patterns Kit $174.99
Complete trike frame and tail section with supporting struts and hardware.
This kit also comes with Wing and Stabilizer Aluminum-Carbon Rod/Tube Framing and Hardware.

To be used with your own 1/4" Bluecor or 6mm Depron DIY wings, using the MIA Foam Wing-Stabilizer Patterns supplied in the kit. Can be also used with 2mm Coreflute using the supplied Wing and Stabilizer patterns and Hardware.

This kit is very similar to the original MIA UL Quicksilver style "Bluecor", as in our first QS UL videos. Natural Bluecor or Depron foam wings and stabilizers, can be decorated easily with Krylon paints for plastics sprayed in light coats. Or use strips of color packaging tape over white Depron wings and stabilizers, as in the photos below.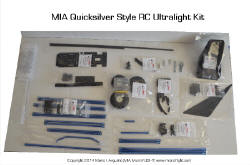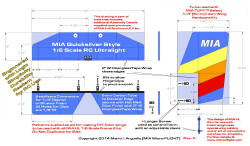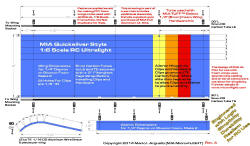 Decorating - Painting Tip:
Before decorating, clean foam surface with denatured alcohol so that paint or color tapes stick to surface cleanly.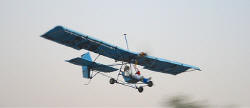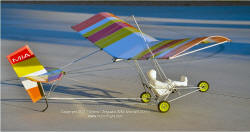 If you're interested in the Full 1:6 Scale Effect of the Quicksilver Style UL
Nylon Sail Sewn Wings, just like the real thing.