High Performance
RC Microlight
* Crashproof
* Realistic Control
* Realistic Appearance

MIA EZ™ 1.25 Trike
RC Microlight
Mixed Elevon
Weight-Shift
Control System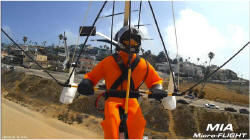 MIA EZ™ 1.25 Trike High Performance

Weight-Shift

RC Microlight Ultralight Flex Wing KIT
Wing Trim Colors Available
A bit of History
Another MIA Original one of a kind design based on a larger original design done in the 80's, but made smaller and more realistic controlled via Standard weight -shift and through the MIA Optional On-Board Pilot. As with the MIA Robo Pilot Trikes, this Particular RC Microlight is another MIA Innovation that started with that first 80's MIA Original Design RC Microlight Trike, at a time when there were no such RC models available anywhere. Read More on the RC Microlight History...
The MIA EZ™ 1.25 Trike, RC Microlight, is larger than the MIA EZ™ 1.0 Trike or MIA Mini Robo™ RC Trike. The sail on the 1.25 is nylon and sewn with real batten pockets. The airframe is aluminum with G10 Composite Bolt-On Bracing Plates Metal/Nylon Hardware and Carbons Rods, very lightweight structure, durable and realistic looking.

The MIA On-Board Optional Pilot has a radio controlled Moving Head. The flexible Arms, Hands and Legs can be attached to various types of mechanical controls. On the MIA EZ™ 1.25 Trikes they attached to the control bar. The Legs can be mechanically coupled to front wheel steering bars, to allow them to move in realistic fashion.

The MIA EZ™ 1.25 RC Microlight can easily carry an Optional Mobius (Keychain or pocket) camera and mount as in our videos, a compact Hero-Pro camera or cameras of similar size and weight. We actually had two camera mounts on this model, one at the nose and one at the rear of the trike to capture video from front and back.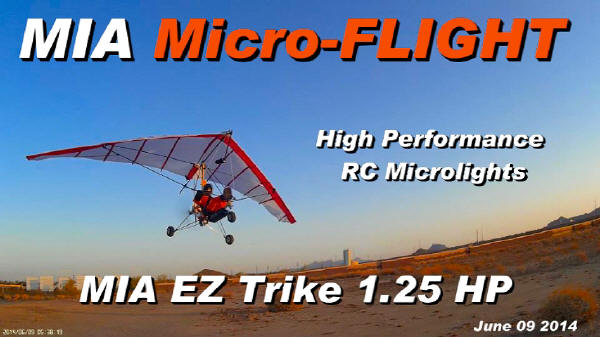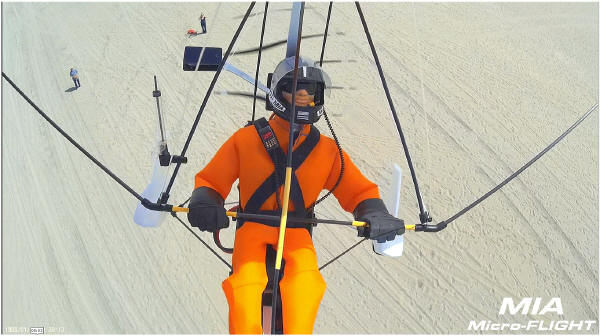 MIA EZ™ 1.25 Trike High Performance

RC Microlight Kit

$249.99

Will Easily Carry

3 Mobius (808 #16) Cameras

or a Go Pro Hero

or

other similar size - weight Cameras

in addition to MIA Pilot

and FPV gear

if you are so inclined to

* Great size for easy transport
* Highly visible
* CNC Machined High Quality Parts
* Aluminum, Fiberglass, Carbon Rod Frame
* Bolt-On Assembly
* Metal and Nylon Hardware
* Professionally Sewn Pocketed Nylon Sail
* White Wing with Bright Color Trim

Please allow 1 week for Manufacturing

MIA EZ (TM) 1.25 Trike - High Performance RC Microlight Kit

Custom Sail Color Trim per request add $10.00

MIA EZ (TM) 1.25 Trike - Custom Sail Trim Color

* High Performance Motor

* Matched Propeller

* Matched ESC with BEC

* 3 Metal Gear servos

* Gold Plated Electrical Connectors

MIA EZ ™ 1.25 Trike - HP RC Microlight Electronics Package

MIA 1.25 Pilot Figure Ultra Lightweight

Articulated - with Animatronic Head $74.99

* Molded Head Fitted to Servo Control

* Plug and Play

* Professionally Sewn Flight Suit

* Soft Body with Flexible Arms and Legs

* Hand Grip Style Soft Black Gloves and Boots

* Hook and loop Belt Strap

* Other Meticulous Crafted Details

Simulated Coiled Headset Cable, Mic and Radio

Please allow 1 week for Manufacturing

Assembled and Packaged ready to use.

Hand Painted Face and Detailed Helmet Assembly

with awesome! Complimentary

Super Lightweight Soft Gloves and Boots.

The complete head assembly can be removed if you prefer to mount a small (808 #16) or Mobius pan and tilt camera using an optional MIA Pan and Tilt Camera Kit.

Done only as MIA Does it!

MIA EZ™ 1.25 Trike

Camera Mount Kit

$14.99

Capture Spectacular Views!

Direct Bolt-On Front Wing Mount

Aluminum, Fiberglass and Nylon Parts

for Mobius or similar style and weight

1/4-20 thread mount pocket cameras.

This mount allows video taping

as in many of our videos

pointing direct to the pilot and rear of model

to capture spectacular views.

MIA EZ™ 1.25 Trike

Pan and Tilt Camera Mount Kit

Pilot View

Direct Bolt-On Pilot Head Mount

Aluminum, Fiberglass and Nylon Parts

for Mobius or similar style and weight

1/4-20 thread mount pocket cameras.

This mount allows video taping or FPV

from Pilot Head.

Remove the MIA Pilot Head

and Install this pan and tilt camera

for another exciting flying experience

Coming soon!

*** Please Note ***

We reserve the right to improve or make changes to MIA Products anytime.
In efforts to provide our customers with the best product we can make,

actual Kits may be slightly different in color and parts than some of our earlier product photos,

if anything it will be a lot better than what it looks in photos or in video.


Pilot, Wheel Pants, Instrument Panels and other Kit colors are optional items.

Due to the custom manufacturing nature of these kits, including pilots and

electronic packages sales are final and non refundable.
MIA EZ™ 1.25 Trike High Performance RC Microlight Kit

Features

Nearly indestructible rc microlight model kit, great for someone wishing a different pace and a new RC Flying experience and excitement! If you are familiar building Erector Style models, building and flying the MIA EZ™ 1.25 RC Microlight will be a joy and a very satisfying unique experience. For ease of shipping, Comes In individual sections.

* True Weight Shift

* CNC machined Aluminum, Carbon and Fiberglass Parts.

* Bolt-On Frame Assembly with MIA TUFF™ Select Lightweight Metal and Nylon Hardware

* MIA Flex™ Press-Fit Connectors for all Struts Connections keeps model nearly indestructible.

* High Performance Professionally Sewn and Pocketed Topless Wing Nylon Sail

* MIA TUFF™ Spring Rear and Front LG with shock absorbing wheels

* Seat with Belt Straps for support of Optional MIA 1.25 Pilot Figure

* Electronics Package: High Performance Matched Motor, ESC and Prop, 3 Metal Gear servos.

Kit Contents

* Frame -- CNC Machined G10 Fiberglass Carbon Composite Plates over Aluminum Base and Mast
* Landing Gear -- MIA TUFF™ Landing Gear Parts in Trike Fashion with Built-in Suspension
* Wheels -- Lightweight Foam
* Wing Frame Structure -- Carbon and MIA TUFF™ Select Parts
* Pocketed Sail - Nylon -- White with Color Leading Edge Trim
* Control - Elevon Mix Standard Weight -Shift with Reflex and Front Wheel Steering
* Plastic Parts -- Seat
* Hardware -- MIA TUFF™ selected nylon and metal hardware
* Instructions -- Step by Step Assembly Instructions
Materials and Tools Required

* Holt melt Glue or High quality CA Glue, CA Accelerator Spray
* A 00 size Philips Screwdriver
* Exacto™ Hobby knife
* Small Scissors
* Metal Edge Ruler
* Krylon™ Paint for Plastics (Optional to paint frame to desired color)
Required Equipment

PLEASE DO NOT DEVIATE FROM THIS EQUIPMENT ESPECIALLY THE REQUIRED USER SUPPLIED FLIGHT BATTERY SIZE AND CAPACITY. PLEASE ASK MIA, IF IN DOUBT
Spektrum DX6i or HK T-Six Orange Transmitters
The MIA EZ™ 1.25 RC Microlight is not a toy but a sophisticated RC model "KIT" which has been designed based on modern day "Strut Braced" microlight architecture, including the wing. Therefore it is assembled, setup and flown very much like the real thing, but in miniature.

In order to fly this model, a programmable transmitter is required. We highly recommend the Spektrum DX6I or the HK T-Six Orange Transmitters (Mode 2 USA use) as these are highly popular and have been thoroughly tested with the also popular Spektrum and HK respective orange DSM2 receivers.
You provide your own
* Transmitter -- Programmable Delta Elevon Mix, DX6i DSM, Hobby King Orange TX Mode2 or similar
* Receiver -- Spektrum DSM, or Hobby King Orange RX DSM2 6CH
* Battery -- 2200mAh 30-50 C 2S 7.4V Beginner) 3S 11.1 volts (Expert)
* Suitable Li-Pol Charger
Note: Please observe Li-Pol Battery and Charger Connector Compatibility and Manufacturer suggested instructions for Safe Operation.
You are solely responsible and assume all liability for operation of model.

Last but not Least

An indoor arena or park to fly it and enjoy your truly unique and awesome model!

MIA 1.25 PILOT FIGURE
This is MIA's Famous Pilot Figure that pilots all of our Ultralight models, beginning with the MIA EZ™ Trikes 1.25. as well as the MIA Quicksilver Style Ultralights and even MIA 1.25 size RC Autogyros and RC Helicopters. The size is a bit larger than a GI-Joe figure, which makes it more visible, but at a fraction of the weight and suitable for RC Ultralight models and customers who wish to have a more realistic and ultra lightweight articulated pilot figure on their model.


This Pilot Figure comes with a servo operated head ready to use. An optional servo delay circuit and mixer can be also used to make the head move more slowly in proportion to the aileron, elevator or rudder control.


A sample video with the pilot mounted on our MIA EZ Trike 1.25, the figure hand grips can be positioned to various mechanically linked controls to mimic real hand to control bar or stick operation.