MIA Mini Robo RC Trike ™

Microlight Ultralight Flex Wing KIT
A bit of History in a Nutshell
One of a kind design based on a larger original MIA model done in the 80's, but made smaller and more realistic controlled via the MIA Robo Pilot an MIA Innovation that started with that first 80's MIA Original Design RC Microlight Trike, at a time where there were no such RC models available anywhere.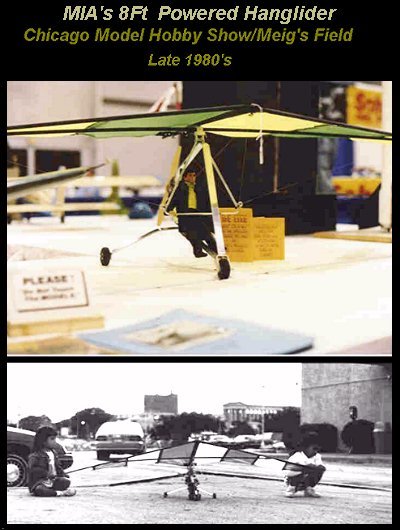 Following is one of the first Threads and posts I started in RCG long before interest started to catch on by others and similar rc trike, microlight forum threads and videos showed up on You Tube. Here is the opening post, with typos and all.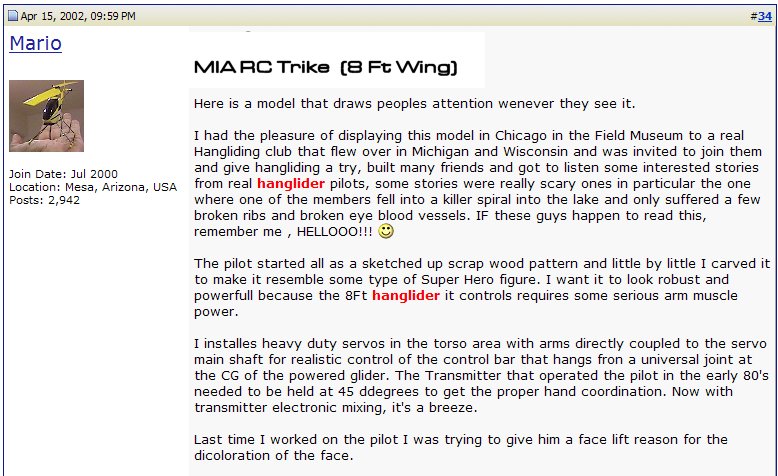 The Model was designed for weight-shift control via the mechanical pilot who's hands has special ball links to the control bar (Note the ball studs on the control bar, they were for this purpose) . The model was also controlled via the more traditional 2 servos to wing via two rods coupled to an original and unique mechanism part of the universal joint, directly under a "floating crossbar" which also aided in providing billow control to effect weight shift control.
80's material for battens, simple wood soaked in water and bent over a curved mold.
I also used lightweight bent aluminum battens but these did not retain the shape as good as the formed wood ones. The model only used 3 battens per side, strategically placed on the wing to provide an cambered airfoil while maintaining a light "uncomplicated" wing.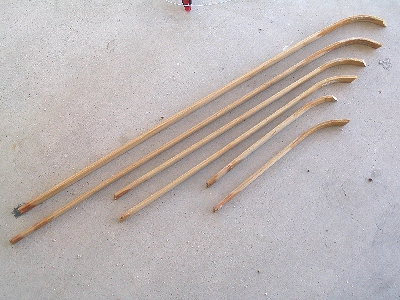 The original RC Microlight Trike Upper wire connections. I got a bit creative and used sewing materials (The clips) along with aluminum reinforcement plates at the floating cross-bar to LE connections to make collapsing the wing easier for transportation.
Rip-stop nylon sail, reinforced with heavy Dacron tape at the Leading edges and sewn with heavy duty button thread provided the LE pockets.
Much of my reference for this model was taken from an Air Creations Real Trike Product Brochure I had requested via "snail mail", at the time. I was not after replicating every last detail of the real trike as my main goal was to make the model flyable and controllable via the unique Robo pilot. I also wanted this trike to look original with my own creative details. If you really look carefully at the way MIA Designs products, "the details" you will find that these have their own style and no other product or model is similar to mine in that respect.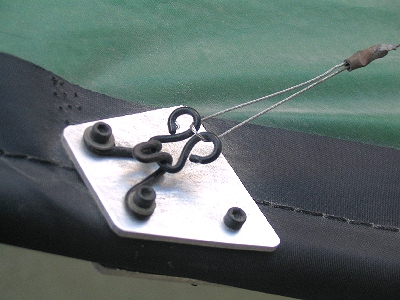 Top Hat on Fiberglass King Post with stainless steel cables connected via

soldered crimped brass ferrules. I never liked this arrangement for the complexity in having to assemble top as well as bottom (AKA Ground and Flying) wires, reason why most of the later and more recent MIA Trikes, Microlights are of the Strut-Braced wing type, as this is much simpler and modern day microlight trikes use it also for efficiency, less complex and less drag from all that cable rigging.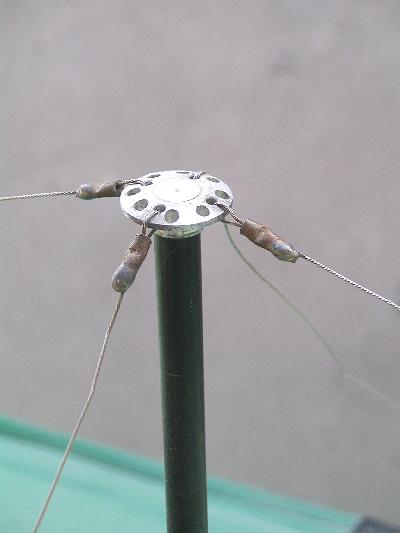 Unique aluminum frame perforated on a small millingmachine to remove some of the weight. The unique MIA Trike frame design had to be modified from the typical real frames design of the Air Creation trikes at the time, to make room for the particular type of motor mounting required by the RC counterpart. An Astro 15 motor along with a Jomar ESC powered the model. Some of the electronics were removed to be used on another model, at the time of this photo. I sold this model with no electronics as I was trying to clear some large models from my garage in 2000. I regret having sold it, as the only reference I have of this are these early photos. This model played an important role on later MIA developments which were actually less complex in efforts to provide a simple kit to the hobby market back in 2002.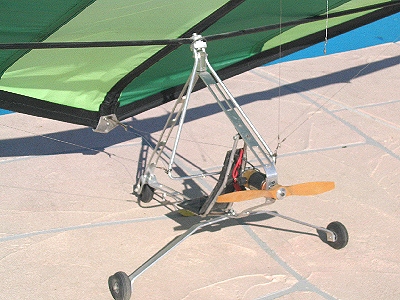 Following are some Pre 2009 models that I never made it into kits because they were too complex to manufacture.
Here again another model with redundant upper and lower wires and a bit more scale with non mechanical pilot. Weight shift via 2 servos at the back of the main post to wing. Very similar to the controls on the current MIA EZ Trikes and Gyros but also on the 2009 prototype park flyer MIA Roto-Trike ™.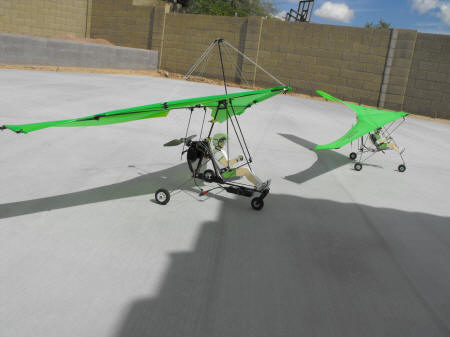 Once again a similar weight-shift pre 2009 RC Trike Microlight with original and unique control from servos to control bar. I had to try all sorts of control configurations I could think of in order to make a final decision on the type of control I wanted in a realistic "entry level" Microlight Trike kit. Note the, also, unique types of universal couplers from the frame to the wing at the CG points.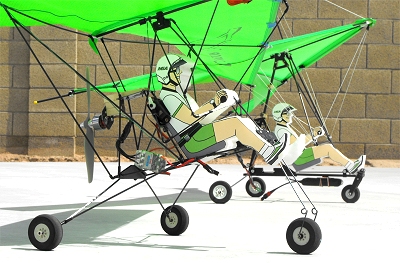 Below an RCG (also posted this in RC Universe at the time), a much refined and simpler model that used my own design wing warping which I developed after watching falcons glide over a nearby mountain and looking at the way they would tip the wing tips to effect up-down and controlled turns. After this project I spend some time away from my forum RC Trike threads, as I had other commitments and real work with the MIA Micro-Heli Kits and later Micro Heli upgrades I was doing heavily at the time. But the idea was to provide a simple kit from any of my previous weight shift and direct to steering bar control designs. At this time Li-Pol and BL motors were still in development stages and another reason why I was designing really simple and extremely lightweight microlights was because the only form of lightweight battery were still Ni-CADs Ni-MH, mainly. Heavy by today's Li-Polymer battery technology.
LI-Polymer Batteries and BL Motors opened up a whole new world of possibilities for these models and is reason why I decided to make available the more elaborate MIA Robo Mini Trike, while also looking forward to offering some of the more simpler but more in scale MIA EZ Trikes. As seen in MIA"s countless You Tube Videos.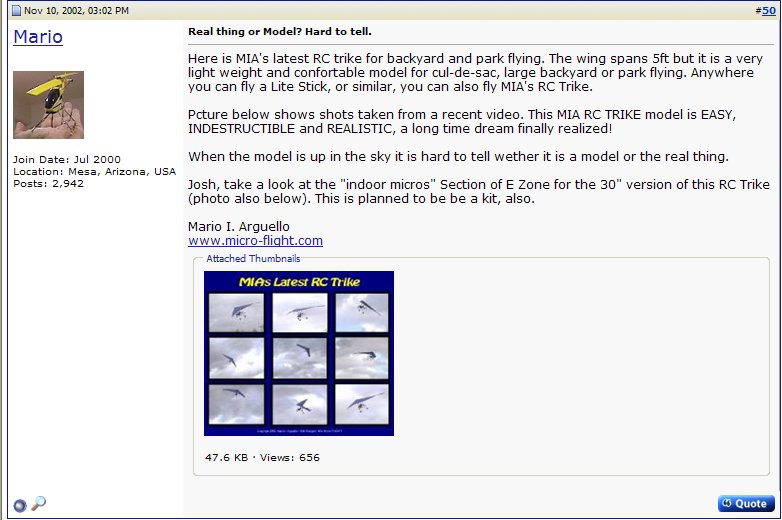 The 2009 prototype park flyer MIA Roto-Trike ™

This model was designed to be a non Rogallo Delta (More triangular wing like a kite) shape but more of a higher aspect ratio wing design, as most of MIA RC Microlight designs, but geared to be both a Microlight as well as an Autogyro by simply switching the rotary wing for the flex wing.

I had posted this in the RC forums and on you tube in 2009. This model was based on MIA"s much earlier Flex wing Trike designs that used 2 servos at the back for weight shift, and it made perfect sense to keep the same frame and control architecture for both a microlight and autogyro.

Granted it had a vertical and horizontal stabilizer it was left there for the autogyro features, mainly, as the microlight or trike configuration never required one, as I had shown in much earlier videos of my rc trikes.

The sail was a bit fluffy and supported by loose cables to allow the model to inflate easily and maintain billow control via "2 servos at the back of the main post" (a shared design "weight shift" detail between autogyro and microlight).
In order to keep this page short and to the point,

I am only showing some key MIA RC Trike Development historic points. I have considerable photos and info imbedded in many or my early RC Trike (Microlight) threads, and videos. To this day, there is no other individual or company who has or is taking RC Microlights, Trikes, Ultralights and Autogyros to the level MIA has and is taking them, and this follows in the same tradition MIA took the RC Micro, Sub-Micro and MIA Palm-Size™ Helicopters pre-2000, a time these were only a dream.
MIA Trike (Microlight) You Tube Playlist
\